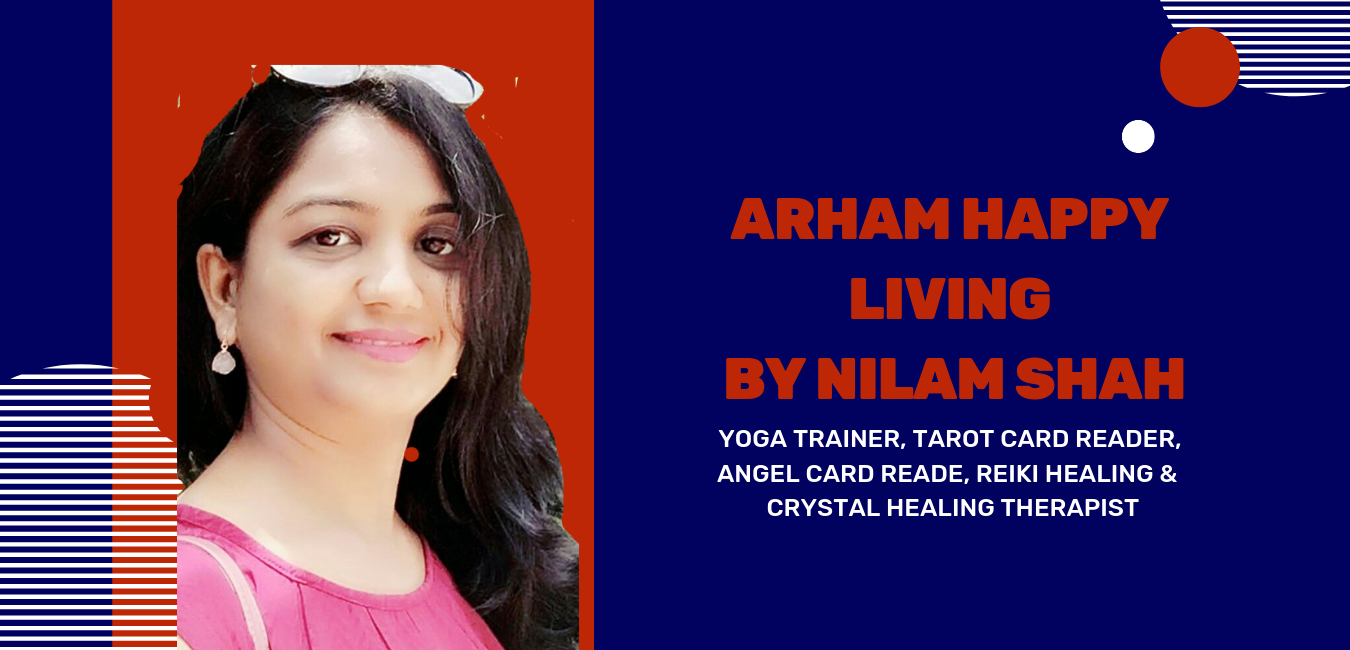 NILAM SHAH-
tarot reader & Yoga trainer
Nilam Shah is an expert & experienced Tarot Card Reader & Yoga Trainer who has been doing Tarot Card Reading and Yoga Studio since last 10 years. The Journey started in 2000 & she started learning Reiki-1 and Yoga advance and beginner courses. Having learnt that, she used to give reiki healing to her family members, & it gave her much joy. Then she learnt the second degree of reiki and started giving it to people who are far away. She didn't stopped & was curious to learn more & more to understand the mind & it's working principles.
In 2005, she attended different workshops & seminars of various Trainers of India and out of India. Her Tarot journey started in 2008 when she attended the "Tarot Workshop". After that Workshop, she started her own Tarot reading & others, and her readings started proving right. As it happened, her trust on Tarot kept growing and she started doing it more & more.
Hence, her relationship with Tarot has been very intimate & trustworthy. Being involved with Tarot from so many years she always says "Nilam means Yoga & Tarot".
Personal Tarot Reading This involves one-on-one consultation between you and Tarot Reader for your Life's different aspects like relationships, career, health, travel, finance and many more.
Tarot Workshop is all about learning the Tarot Reading by receiving guidance from your inner self, from your subconscious mind – The Divine Guidance. To learn Tarot Reading, you will need to learn the language of pictures and symbols.

consultation on reiki, tarot & angel
We can give private short consultations to your guests or involve everyone as a group. Especially good for small gatherings, group readings can be a fun bonding experience for all.

a tarot reader can be an excellent addition , too!
Testimonials are an extremely important part of the success. On your relationship-building journey, which is lined with credibility and expertise, testimonials from loyal customers are a critical part of the presence.
Testimonials are written or recorded statements that support credibility and level of expertise. They also strengthen reputation by expressing the trust that other people have in you and your business offerings.
Lora Spielberg
"I met Nilam 5 years back! She gave me accurate answers of my questions & recently after almost 2 Years i met her! She is more charming & full of positivity ! She has powerful Intuitions & Spirits! She is doing immense work in Tarot, Yoga & Reiki Healing world & yes she is good Person with Holistic soul too! God bless her"
Isabella
I am a professional. I have asked Nilam about my career through Tarot Cards Reading, wanted to know about my future about career. As suggested by Nilam, I have become very successful entrepreneur. Then I came to Nilam to Ahmedabad and learnt Tarot reading too. Whenever I have any question or problem, I can ask Tarot and seek true guidance. Thanks to Nilam.
Amelia
Nilam Shah is one of the Finest Tarot Reader's I know and is an amazing healer too. She has personally helped in my life showed me a way.. Showed me the real me.. I'M thankful to you Nialm as she made me much better person also gave me a right path... She is the best of all I will say.. Have a made a friend... God bless you dear with the best of wealth and health.